Database of External Quality Assurance Results - DEQAR
The Database of External Quality Assurance Reports (DEQAR) project was selected for EU co-funding under Erasmus+ Key Action 3 – European Forward-Looking Cooperation Projects. The main aim of the DEQAR project is the development of a database that will enhance access to reports and decisions on higher education institutions/programmes externally reviewed against the ESG, by an EQAR-registered agency.
The database is expected to enable a broad range of users, including but not limited to:
Recognition information centres (ENIC-NARICs)
Recognition officers in higher education institutions
Students
Quality assurance agencies
Ministry representatives and other national authorities
to satisfy their information needs and support different types of decisions (e.g. recognition of degrees, mobility of students, portability of grants/loans). Through this database EQAR will contribute to the transparency of external quality assurance in the European Higher Education Area. The first public preview version of the database is now available.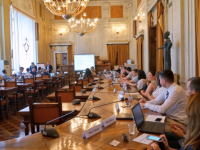 Third DEQAR event
User Interface Workshop in Rome - June 2018
Read more
EQAR registered agencies as well as stakeholder partners of the project gathered in Rome for the DEQAR User Interface Workshop on 25-26 June.
The event, attended by 30 people from 14 different countries, was hosted by CIMEA, one of the project partners and had as purpose to:
Understand how the user-friendliness and presentation of the website could be improved to best meet the needs of the target audiences;
Identify what supporting documentation, tools and guidance might be developed to aid end users;
Consider how to inform current and potential audiences of the application that the Database might have in their own work;
Look at possible additional data, change in collection scope or structure, historical data, data presentation, linkages to other resources, use of API, and machine readable outputs.
During one of the practical sessions "Systems Trials", participants had to work through pre-prepared queries designed in advance to test different parts of the database. This yielded some interesting results, which will all be used to enhance and refine the structure, the scope and or the presentation of the database to further improve the user experience.
This was followed by a panel discussion on DEQAR stakeholder involvement and expected impact. One of the conclusions was that the different stakeholder groups not only have different expectations and different uses for the database, but also very wide-ranging understanding of quality assurance and its uses, and that taking into account these diverse purposes and wishes, within the remit of the project, would be paramount.
Another session consisted of small groups brainstorming about communication tools, linkages to other resources and possible additional data and necessary changes in the scope, structure or presentation.
Conclusions that were presented in the wrap-up session were manifold and ranged from improvements to the database that could and would be implemented immediately to recommendations that would need some further thought and analysis. The leitmotiv of the whole exercise revolved around finding the right balance between everyone's needs and the usefulness or feasibility of all the ideas and proposals.
See photos from our event in our DEQAR User Interface Workshop album.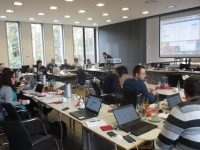 Second DEQAR event
Data collection and back-end workshop in Bonn - March
Read more
As is clear from the title of the workshop, this event revolved around the data collection and the back-end of the database.
Agencies were not only able to put forward their questions on how to upload their data and reports, but also to test it in practice with the help of the IT developers' team.
Apart from the practical sessions, several explanatory presentations were given:
An overview about the DEQAR project aims, the background, the project partners and the data envisaged for the database.
A presentation on the structural and functional overview of the database, focusing on the submission and administrative modules.
A detailed walk-through of submission procedures and requirements.
A presentation and discussion on the database policies, terms and conditions.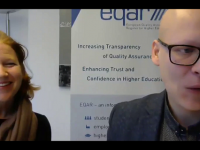 First DEQAR event
Read more
The DEQAR webinar was the first major event of the DEQAR project, dedicated to all DEQAR project partner QA agencies.
During the webinar the project coordinator and the database developers presented an overview about the database project, the draft data schema, the technical specifications and the methods for data delivery. There was also time for questions and discussions.
The webinar was organised for the technical staff all EQAR registered quality assurance agencies, including non-project-partner agencies. The participation rate was high, with 25 out of 26 project partners taking part and additionally also five non-project-partner agencies. EQAR was very satisfied with the active participation and interest shown.
More information regarding the DEQAR webinar (agenda, data submission plan, functional overview) can be found here.
Background
In 2016 EQAR carried out a feasibility study on the Database, including surveys of potential users and registered agencies, as well as desk research of existing database initiatives.
The resulting Report and Operational Model were presented to EQAR members (European governments and stakeholder organisations), most of whom had received positive feedback from their national stakeholders and considered that the database would enhance accessibility of external quality assurance results.
While all EQAR-registered agencies publish the reports and decisions from their external quality assurance on their own websites, users frequently face difficulties accessing such information, especially from other countries than the one they are familiar with. The results of the study showed that most EQAR-registered agencies could supply the information that is most relevant to users into a central European database.
Once set-up, the Database will allow users to identify whether a higher education institution has been subject to external quality assurance in line with the ESG, by an EQAR-registered agency (at institutional level, or one or more of its programmes) and to easily access the corresponding external QA report(s).
-> Read here the Report and Operational Model
Project Partners
Coordinated by EQAR, the project partners include a number of EQAR-registered quality assurance agencies, the key European stakeholder organisations and a research partner:
Stakeholders & users will be involved in ensuring relevance of the database and links with the end users:
ENQA – The European Association for Quality Assurance in Higher Education
ESU– European Students Union
EUA – European University Association
EURASHE – European Association of Institutions in Higher Education
EI – Education International

CIMEA – Centro di Informazione sulla Mobilità e le Equivalenze (italian ENIC-NARIC)
A Research Centre will be responsible for piloting studies in the use of the database:
University of Ghent – The Centre for Higher Education Governance Ghent (CHEGG)
17 QA agencies1 as well as GAC and HRK. They will have as main responsibility the technical implementation of the database:
A3ES – Agency for Evaluation and Accreditation of Higher Education (PT)
ACPUA – Aragon Agency for Quality Assurance and Strategic Foresight in Higher Education (ES)
ACSUG – Agency for Quality Assurance in the Galician University System (ES)
ANECA – National Agency for the Quality Assessment and Accreditation of Spain (ES)
AQU – Catalan University Quality Assurance Agency (ES)
ARACIS – Romanian Agency for Quality Assurance in Higher Education (RO)
ASHE – Agency for Science and Higher Education (HR)
ASIIN e.V. (DE)
BAC – British Accreditation Council for Independent Further and Higher Education (UK)
EKKA – Estonian Quality Agency for Higher and Vocational Education (EE)

fmid – Fundación para el Conocimiento Madrimasd (ES)

HCERES – High Council for Evaluation of Research and Higher Education (FR)
PKA – Polish Accreditation Committee (PL)
NVAO – Accreditation Organisation of the Netherlands and Flanders (BE-FL )
SQAA – Slovenian Quality Assurance Agency (SI)
Unibasq – Agency for Quality of the Basque University System (ES)
GAC – German Accreditation Council (DE)
HRK – Hochschulrektorenkonferenz (DE)
Associate Partners:
Associate partners (do not benefit from the EU grant and may come from non-EU countries):
ECA will contribute experience and expertise from Qrossroads:
ECA – European Consortium for Accreditation (BE)
Registered QA agencies from non-eligible countries will be involved in the technical implementation of the database:
AKKORK – The Agency for Higher Education Quality Assurance and Career Development (RU)
KAA – Kosovo Accreditation Agency XK3
NCPA – National Center for Public Accreditation (RU)
1 All interested EQAR-registered QA agencies from Erasmus+ Programme countries (max. 38) were invited to sign up.
2 NVAO participates in the DEQAR project for its activities in Flanders only.
3 Temporary code used for Kosovo. All references to Kosovo, whether the territory, institutions or population, shall be understood in full compliance with United Nation's Security Council Resolution 1244 and without prejudice to the status of Kosovo
Timeline - things to come
June 2018 – September 2018:
Refining the user interface
October 2018 :
Launch of the final, refined user interface.
Promotion of the database among relevant user groups via promotion materials and stands at conferences, fairs and other events.
October 2018 – March 2019: 
Development of interactive, real-time and personalised infographics on quality assurance of higher education in Europe.
April 2019:
Publication of first pilot study on the DEQAR project.
October 2019:
Publication of good practice examples as well as testimonials of users of the database.
Final conference with stakeholders and publication of second pilot study.
Timeline - things done
April 2018 – June 2018
User Interface Workshop in Rome on 25-26 June.
Publication of the public beta version of the user interface (23 May).
Testing of the operational back-end and data collection software.
January 2018 – March 2018:
Development and finalising of the technical specifications and the initial database prototype.
DEQAR data collection and back-end workshop in Bonn on 19-20 March.
November 2017 – December 2017:

Project kick off on 1 November 2017.
Finalising subcontract with IT developers' team.
Preparations for the development of the technical specifications for the database as well as the common data schema.
Erasmus+ Key Action 3 - European Forward-Looking Cooperation Projects
Forward-Looking Cooperation Projects (FLCPs) are trans-national co-operation projects aiming to identify, test, develop or assess innovative policy approaches that have the potential of becoming mainstreamed and giving input for improving education and training systems.
They provide in-depth knowledge on target group(s), learning, teaching or training situations and effective methodologies and tools that help policies to develop, as well as conclusions relevant for policy makers in education and training at all levels.Forward-Looking Cooperation Projects aim at promoting innovation emerging from representative stakeholders in the field ("bottom-up approach").
Forward-Looking Cooperation Projects are implemented by key stakeholders with a proven record of excellence and state of the art knowledge, the capacity to innovate or reach a systemic impact through their activities and the potential to drive the policy agenda in the fields of education and training.