General Assembly in Amsterdam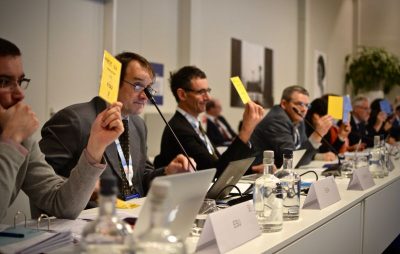 General Assembly in Amsterdam
EQAR's 10th General Assembly was held in Amsterdam on 7 March, hosted by the Dutch EU Presidency, in conjunction with the BFUG meeting on 7-8 March.
Representatives of 38 EQARmembers convened to review and adopt, among others, the EQARSelf-Evaluation Report as well as a number of recommendations directly resulting from the self-evaluation process.
Apart from recommendations on how to further improve or expand current practices, two distinct objectives came out of the self-evaluation exercise and were directly taken forward into the Work Plan:
To study the feasibility of a database of higher education institutions and programmes that have been subject to quality assurance by registered agencies.
To establish or clarify the position of a president in order to raise the visibility of European Quality Assurance Register for Higher Education EQAR and to enhance stability and leadership internally.
EQAR will prepare concrete, operational proposals on both topics which will then be discussed at the Members Dialogue in Oslo in November 2016.
The General Assembly elected the following Executive Board for a two-year mandate as per 1 April 2016. According to the agreed annual rotation, the Executive Board will assume the following functions:
Re-elected: Tia Loukkola (EUA) – President
Re-elected: Fernando Galán Palomares (ESU) – Vice-President
Re-elected: Maria Kelo (ENQA)   – Vice-President
Newly elected: Johan Cloet (EURASHE) – Treasurer
EQAR Annual Report 2015 [PDF, 3MB]
Self-Evaluation Report [PDF, 2MB]