EQAR Members' Dialogue in Oslo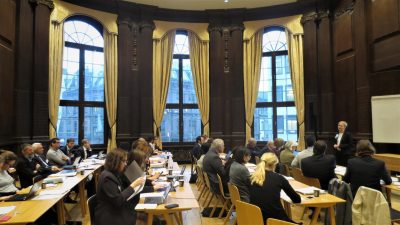 EQAR Members' Dialogue in Oslo
The sixth edition of the Members' Dialogue was hosted by the Norwegian Ministry of Education and Research. The event focused on two important discussions initiated by the self-evaluation of EQAR: the possible database of Higher Education Institutions/quality-assured programmes, and clarifying the strategic leadership of EQAR by changing from a rotating presidency to an elected president from mid-2017.
Database of quality assurance results and decisions
Following up on EQAR's Strategic Plan and current Work Plan, the EQAR Secretariat prepared a Report and Operational Model of a Database of External Quality Assurance Results. The data in the report were based on surveys sent out in 2016 to potential users, as well as a dialogue with existing initiatives. The report was presented and discussed at the EQAR Members' Dialogue. Further steps will be considered taking into account these discussions.
Within the event, members also discussed the European Approach for Quality Assurance of Joint Programmes, Key Consideration for Cross-Border QA and learned about the new developments in the automatic recognition of qualifications in Western Balkans, the quality assurance of transnational higher education as well as developments within the national legal frameworks for external quality assurance in Switzerland, Netherlands and the Belgium–Flemish Community.