Enhancing Quality through innovative Policy & Practice (EQUIP)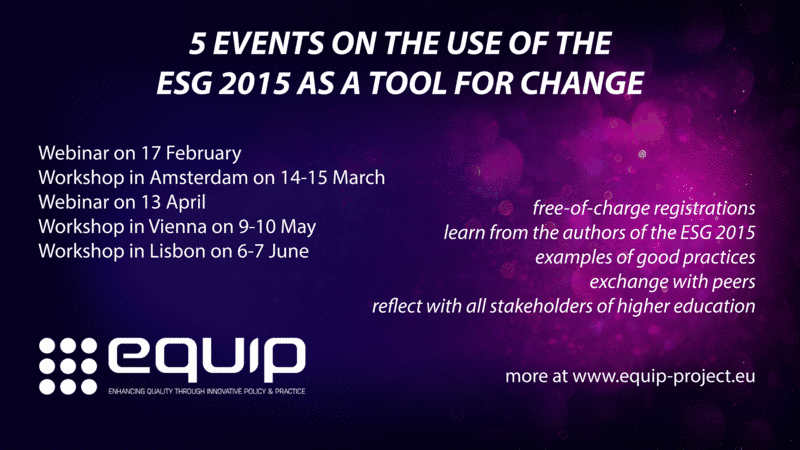 Enhancing Quality through innovative Policy & Practice (EQUIP)
EQAR is organising five events, with colleagues of the EQUIP project (EURASHE, ENQA, EUA, ESU, EI, UiO, CCISP), on the use of the ESG 2015 as a tool for change in European higher education in the first semester of 2016.
Join us in our workshops and webinars:
Webinar on 17 February 2016*
Workshop in Amsterdam, Netherlands, on 14-15 March 2016
Webinar on 13 April 2016**
Workshop in Vienna, Austria on 9-10 May 2016
Workshop in Lisbon, Portugal on 6-7 June 2016
During these workshops and webinars you will have the opportunity to exchange with peers and all stakeholders of higher education on the changes in the ESG2015 and specific themes, including the importance of student-centred learning.
* To look at the status of external quality assurance in the EHEA and the challenges that quality assurance agencies may face in adapting their processes in light of the ESG 2015.
**To explore the emphasis that the ESG 2015 puts on the link between institutional quality assurance and the academic quality of higher education and the resulting focus on student-centred learning and the need to support teachers in adopting a new approach to their work.
As workshop places are limited we encourage you to register as soon as possible. Full information on the programme, speakers as well as practicalities will follow soon.